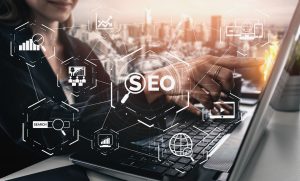 Your website may lack solid SEO underpinnings, by using a customized SEO process, we set specific goals to increase qualified web site traffic, while at the same time raising brand awareness to our clients' web sites. Forward Technologies focuses on how to make an SEO campaign successful through the design of web sites, search engine marketing (organic and PPC), link building, and call-to-action marketing campaigns.
We take a holistic and long-term approach to search engine optimization, enabling your web site to achieve the following goals:
•    Higher rankings on search engines
•    Greater visibility and popularity
•    Targeted traffic to your web site
•    Growth in business
•    Overriding the competition
This process consists of preparing web pages to increase a site's online presence and visibility. It's like giving search engine spiders gourmet food to snack on. SEO is part art form, part technical, and part copy-writing. By using proper keyword phrases and writing clear and concise content describing your page, the search engines can better classify your page in their database.
A well-rounded search engine optimization strategy includes a web site evaluation, keyword analysis, SEO copy analysis, directory submission, and a linking campaign. All of these efforts together result in higher search engine rankings when relevant keyword terms are targeted to your site. The end result will deliver qualified customers to your site and ultimately, an increase in sales. The keys to any natural search campaign are getting your pages indexed, choosing the right keywords, and optimizing your content.
Benefits of Search Engine Optimization:
•    Maximize qualified traffic to your web site
•    Increase your site's rank in results pages
•    Quicker return on Investment
•    Higher sales
•    More affordable than traditional marketing
•    Long-term positioning
•    Increased brand visibility.