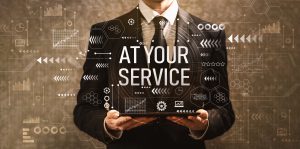 Forward Technologies is an IT consulting and internet marketing firm that brings years of experience with large businesses to smaller organizations.
It is our philosophy that small and medium sized businesses have traditionally been under-served by IT support firms. Many small companies allow themselves to become dependent on an internal staff member or person who that lacks the bandwidth and comprehensive skill set to respond promptly or effectively to technical emergencies.
Our real-world understanding of infrastructure systems, custom applications and web development, along with our expertise in social media, SEO & SEM leave us uniquely positioned to help small and medium businesses maximize their potential and reduce existing IT costs. We advise clients on strategic business and technology plans and also develop and implement the appropriate solutions.
With decades of experience consulting large businesses, including Fortune 500 companies, Forward Technologies was founded with the idea of focusing on small and medium businesses, bringing our worldwide background and experience to the small and medium sized businesses and organizations.
Based on an organization's unique requirements, we provide a customer-centric solution specifically tailored to each client's individual needs.
Forward Technologies offers versatile end-to-end service capabilities that include but are not limited to:
•    Offsite IT Support (Outsourced IT Management)
•    Network Infrastructure Consulting Services
•    Client/Server Development & Support
•    SEO / SEM Services
•    Web Presence Design and Maintenance
•    Social Networking Utilization
•    IT Auditing & Consulting Services
•    IT Business Process Re-Engineering